All about the 2022 RAM 1500 prices and specifications
2022 RAM 1500 Laramie G/T
If the Dodge RAM is so popular, it is because it offers both incredible performance and an incredibly luxurious interior. Discover all 2022 RAM 1500 novelties and prices!
Champlain Dodge, your dealership for the Greater Montreal area, has 2021 RAM 1500 Classic trucks for sale. Find your 2021 Dodge RAM, at a very advantageous price, or opt for a brand new 2022 model!
2022 RAM 1500 Big Horn Sport
2022 RAM colossal power
The RAM truck can be equipped with several different engines, depending on your needs when it comes to power and performance.
The first comes standard on all entry-level versions, the RAM 1500 Big Horn and Tradesman, and consists of a 3.6 L Pentastar VVT V6 with 305 horsepower and 410 lb-ft. maximum torque.
As an option for entry-level versions and standard on all superior versions, beginning with the 2022 RAM 1500 Sport, you will find a 5.7 L HEMI V8 with 395 horsepower. You can also add to it eTorque technology, for even more power.
As you reach even higher versions, you will find a V6 EcoDiesel that can fit on the Limited, Laramie and Rebel versions. Equipped with this engine, the diesel RAM 1500 has an impressive 480 lb-ft. maximum torque and 260 horsepower.
Finally, the last engine which is exclusive to the formidable TRX version, awaits you at the very top of the list: this 6.2 L supercharged V8 has no less than 702 horsepower and 650 lb-ft. maximum torque!
When we choose a RAM, we expect muscle and power. The American manufacturer does not disappoint!
2022 RAM 1500 TRX
2022 RAM 1500 Rebel G/T
RAM 1500 and fuel consumption
Even if it is both an imposing and powerful truck, the RAM 1500 has a surprisingly low fuel consumption for its category!
The standard RAM 1500 V6, for example, only consumes 10.8 L/100 km in average. Even if the V8 engines consume a little more, the RAM 1500 diesel is particularly economical, with a highway consumption of only 8.0 L/ 100 km! This is significantly lower than the consumption of most SUVs on the market.
What's new inside?
The RAM 1500 is designed to offer a comfortable interior and the high-end versions are particularly luxurious.
Amongst these, the RAM 1500 Limited is celebrating its 10th anniversary with a special edition, offering a particularly sophisticated interior. Materials like high-quality leather, wood trims, metal or suede trims, are part of it. Moreover, two colors are combined –indigo and sea-salt- giving the interior an exclusive look.
Technologies have also been enhanced: the Uconnect 5 system has been integrated, with an 8.4- inch tactile screen, or an optional 12- inch screen.
2022 RAM 1500 Limited 10th anniversary edition
RAM 1500 Tradesman
Dimensions and towing capacities
The RAM 1500 dimensions vary according to the selected version. You could, for example, choose a 5- foot 7 or 6- foot 4 bed and a Quab or Team cab, depending on your needs.
Incredibly powerful, the RAM 1500 has an impressive towing capacity ranging from 7 710 pound to 12 750 pounds (depending on selected engine) and a capacity of 12 560 pounds for the optional EcoDiesel engine.
Prices for different trims
Are you interested in the new Dodge truck? A Dodge RAM 1500 is available for you, for sale at your Champlain dealership, in the Greater Montreal area. Without further ado, discover RAM 1500 prices for each of its versions.
Version
Engine
Power/Torque
Towing Capacity
Price
Tradesman
3.6 L V6
305 HP / 269 lb-ft.
7 710 lb
$ 46 945
Big Horn
$ 50 445
Sport
5.7 L V8
395 HP / 410 lb-ft.
12 750 lb
$ 63 995
Rebel
$ 65 995
Laramie
$ 69 995
Limited Longhorn
$ 75 295
Limited
$ 79 995
TRX
6.2 L V8
702 HP / 650 lb-ft.
8 100 lb
$ 101 095
see our current promotions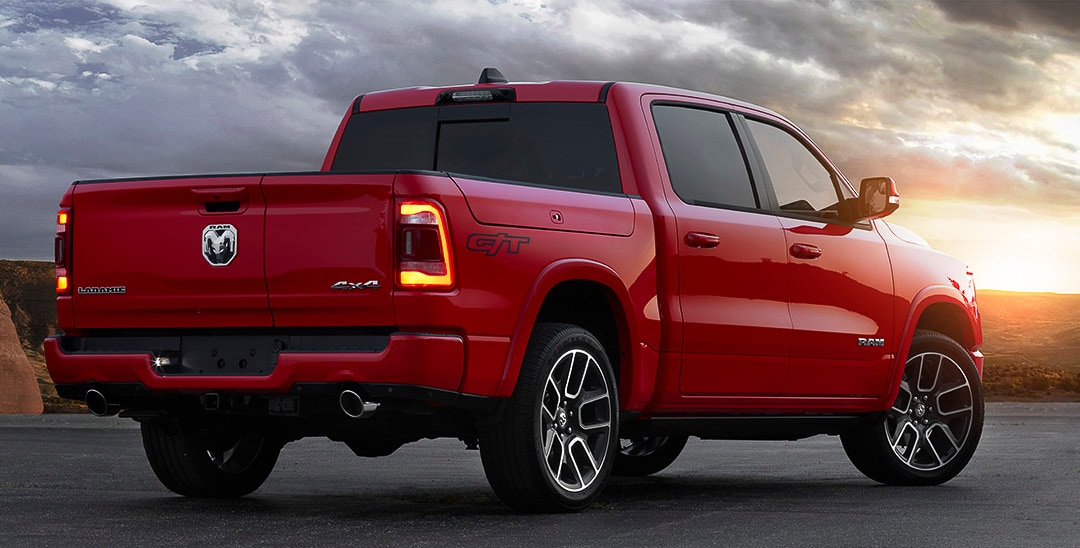 2022 RAM 1500 Laramie G/T
2022 Ram 1500 TRX running footage and beauty shots