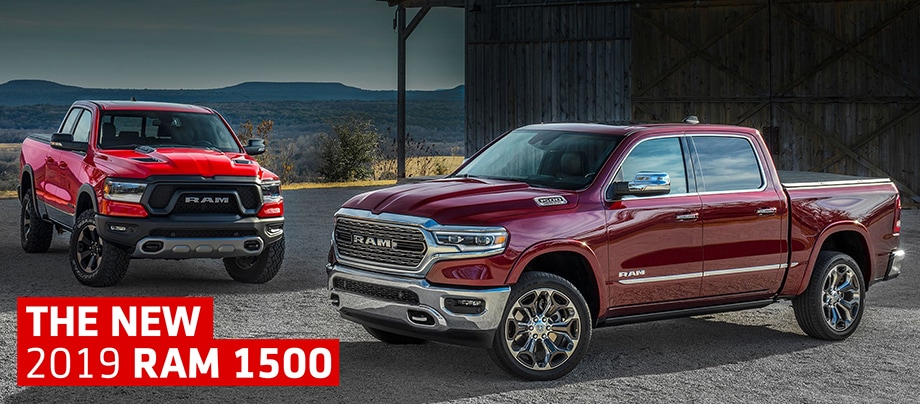 ENGINEERING :
Overall weight reductions totaling nearly 225 pounds net when compared to previous model
New frame features 98 percent high-strength steel to improve durability, weight and rigidity for improved handling
Strongest Ram 1500 ever with most efficient frame in the segment - 100 pounds lighter with 98 percent high-strength steel
Maximum payload increased to 2,300 pounds, and maximum trailer tow to 12,750 pounds
New Ram 1500 is the segment's most aerodynamic pickup with .357 coefficient of drag and features exclusive active aerodynamics: grille shutters, air dam and air suspension
All-new Frequency Response Damping (FRD) shocks deliver the best combination of ride, handling and comfort in a pickup
Next generation, class-exclusive air suspension enhances fuel efficiency, improves ride, and gives greater off-road capability, load-leveling and entry/exit convenience
Largest front brakes in segment at 14.9 inches and new electric parking brake
New 4x4 Off-road Package includes suspension with one-inch lift, electronic locking rear axle, tuned shocks and Hill-descent Control
---
EXTERIOR DESIGN

The all-new Ram 1500 is lighter, longer and wider. Ram 1500's wheelbase and cab are up to four inches longer - giving the truck improved proportions and better aerodynamics. Width is increased by .5 inches. Bed height is raised by 1.5 inches.
The 2019 Ram 1500 retains shapely body lines with a much larger and more aggressive, forward-leaning, front grille opening. The all-new frame with splayed rail ends connects repositioned tow-hooks that are more outward and down when compared to the previous generation.
An interlocking theme reveals itself in the grille, headlamps and hood. Catering to a variety of buyers, the most elaborate grille designs in the auto industry are available in six different styles.
Three headlamp variations are available: Halogen, full LED and full LED with Adaptive Front-lighting System (AFS). Above the lamps resides a new raised aluminum hood that builds on the Ram's big-rig stance. The elevated hood also better directs air away from the wiper area - improving overall aerodynamics and reducing wind noise. A new badge finds itself interlocked with the stamping of the side hood pocket.
Seamless surfacing flows with trademark Ram front and rear fender blisters artfully blended into the body. A drawn body-side character line stretches from front to rear with a styled creased line serving as the two-tone paint border. 
All navigation, Wi-Fi, radio and SiriusXM tasks are handled by a new shark fin antenna - making the new 2019 Ram 1500 the first full-size truck without a mast antenna.
A new 33.3-inch by 43.4-inch panoramic sunroof also is available, giving passengers a spectacular 10 square feet of sky view and additional natural light. The roof also receives aero treatments to flow air over the bed to the tailgate.
Bed rails are raised by 1.5 inches, and are now aligned with the beltline of the body to create a stronger, consistent horizontal profile with aero benefits. Additional drag is reduced with a new spoiler on the aluminum tailgate.
The all-new Ram 1500 continues to offer the best lockable bed storage in the segment with RamBox, now featuring a 115-volt outlet and relocated overhead lighting in the box lids to improve illumination. The industry-first RamBox cargo management system includes versatile, weatherproof, lockable, illuminated and drainable storage bins built into the bed rails.
All-new tail lamps come in three different configurations: Halogen, LED and LED with Blind-spot Monitoring.
A segment-exclusive full-width chrome stamped-steel rear bumper underlines the rear of the truck. The improved design integrates a larger stepping pad on the corners and creates a lower step-in height on the center of the bumper for easy access to the bed.
Sixteen new wheel designs align with an increased lug pattern -from five to six -and are available from 18-inches to an impressive 22-inches in diameter.
The 2019 Ram 1500 is available in 12 colors, including four new colors, and the first use of Tri-coat paint with Ram: Billet Silver, Tri-coat White, Patriot Blue, Diamond Black Crystal. Three two-tone color options carry through newly designed fender flares and the lower body.
---
INTERIOR DESIGN


Les concepteurs et ingénieurs ont non seulement conféré au Ram 1500 2019 la plus grande cabine de sa catégorie, mais aussi des couleurs uniques et des matériaux de première qualité pour tous les modèles de la gamme. La conception modulaire permet une plus grande personnalisation. Chaque modèle est un héros à sa façon.
Le système Uconnect 4C NAV du Ram 1500 2019 est intégré pour la première fois à un écran tactile entièrement configurable de 12 po, conçu sur mesure pour plusieurs modèles Ram. L'écran tactile peut afficher une seule application, comme la carte de navigation sur l'ensemble de l'écran tactile de 12 po, ou peut être divisé en deux pour afficher deux applications simultanément. Un tout nouvel interrupteur à bascule situé juste en dessous de l'écran tactile permet de régler manuellement certaines fonctionnalités. Un système de contrôle actif du bruit sur les modèles équipés du moteur V8 HEMI de 5,7 L et du verre insonorisant permettent de diminuer le son ambiant à 67,1 décibels, ce qui en fait le Ram 1500 le plus silencieux à ce jour.
Les nouvelles fonctionnalités ont donné aux designers la chance de repenser l'interface homme-machine. Toutes les finitions du Ram 1500 2019 sont dotées du démarrage par bouton- poussoir, du frein de stationnement électronique et d'un sélecteur rotatif électronique. Le nouveau sélecteur présente également de nouveaux boutons, dont l'arrêt/démarrage du moteur avec la technologie eTorque, le limiteur de vitesse en descente, le verrouillage de l'essieu et les commandes de la boîte de transfert, lorsque le véhicule en est équipé.
La console centrale a été soulevée et déplacée plus près du conducteur pour pouvoir accueillir le système Uconnect avec écran tactile de 12 po et améliorer l'accessibilité globale des commandes du système.
Le nouveau système de chauffage, de ventilation et de climatisation présente un débit d'air 25 % plus puissant et plus silencieux et des orifices d'aération du dégivreur plus grands pour une meilleure performance. Les orifices d'aération améliorés permettent aux passagers arrière de recevoir un débit d'air deux fois plus élevé par rapport à la génération antérieure.
La capacité de rangement de 151 L du Ram 1500 2019 représente près du double de la capacité de son plus proche concurrent.
La console centrale repensée est une œuvre d'art présentant plus de 12 différentes combinaisons de rangement. En vedette, une station d'accueil plus grande présente une capacité de recharge sans fil livrable en option qui peut accueillir une petite tablette ou un téléphone intelligent. Le porte-gobelet coulissant à trois positions peut être rangé sous l'accoudoir central pour laisser place à un bac de rangement profond conçu pour accueillir un ordinateur potable de 15 po. Sous l'accoudoir central se trouve un compartiment de rangement avec doublure permettant d'accueillir une tablette ou de suspendre un fichier pleine grandeur. À l'arrière de la console centrale se trouvent deux porte-gobelets supplémentaires et un porte- tablette pour les passagers arrière.
Cinq ports USB intégrés à la console centrale permettent d'assurer la charge des appareils (trois à l'avant et deux à l'arrière). Trois des ports USB, dont un se trouve à l'arrière, sont entièrement fonctionnels et connectés à l'interface Uconnect. Deux des prises pour appareils domestiques de 115 V à trois broches se trouvent dans les rangées avant et arrière (une est intégrée à la console centrale et une à l'arrière de la console centrale). Une autre prise de 115 V se trouve dans le système de rangement de caisse RamBox, lorsque le véhicule en est équipé, offrant ainsi trois fois plus de prises que le modèle précédent, et pouvant gérer jusqu'à 400 watts.
La boîte à gants supérieure redessinée sert de tablette pour les petits articles. Sur les versions de gammes supérieures, la boîte à gants supérieure est recouverte d'une garniture de bois et de métal pouvant se glisser vers le haut pour être dissimulée dans le tableau de bord. Le modèle Laramie Longhorn arbore l'emblème Longhorn gravé, tirant parti de l'espace disponible.
La longueur de l'intérieur de la cabine du Ram 1500 2019 a augmenté d'un total de 4 po. Les pieds arrière et les pieds milieux ont été déplacés d'un pouce vers l'arrière et l'arrière de la cabine a été agrandi de deux pouces. Ainsi, les portes avant et arrière sont maintenant 25 mm plus large sur les modèles à cabine d'équipe, tandis que la porte arrière est un pouce plus court sur les modèles Quad Cab comparativement au modèle précédent.
En plus d'être la cabine la plus spacieuse de sa catégorie, la deuxième rangée comprend une inclinaison réglable sur huit degrés, un dégagement aux jambes de 1 146 mm (45,1 po) soit le plus généreux de sa catégorie pour le confort des passagers, ainsi qu'un accoudoir central SmartFold exclusif créant une véritable expérience de siège capitaine.
Un plancher de chargement rabattable à plat augmente le confort des passagers arrière et la convivialité. Une fois la banquette arrière rabattue, 20 L d'espace de rangement supplémentaire sont accessibles grâce aux compartiments situés sous celle-ci. Grâce cette ingénieuse caractéristique, la capacité de rangement double pour atteindre 40 L.
Deux bacs de rangement Ram se trouvent de part et d'autre du plancher de chargement rabattable à plat. Ces bacs de rangement avec couvercle dans le plancher sont maintenant 140 mm (5,5 po) plus longs que ceux du modèle précédent. Ils peuvent contenir des articles plus gros, notamment un attelage à abaissement pouvant offrir une descente d'un maximum de 102 mm (4 po), gardant le chargement à l'abri des regards et l'intérieur propre. Sur le dessus de chaque bac de rangement Ram se trouvent deux arrimages pour garder le chargement bien en place.
Les breloques porte-clés du tout nouveau Ram 1500 ont été redessinées et comprennent de nouvelles fonctions, comme l'ouverture électrique du hayon. Le porte-clé comprend également des éléments de la marque pour les versions de gamme supérieure, ainsi qu'une autonomie améliorée pouvant atteindre six ans.
---
OFF-ROAD

Ram now adds a robust 4x4 Off-road Package for the Ram 1500 on nearly every trim. The offering includes a one-inch suspension lift, with or without the available four-corner air suspension. An electronic-locking rear differential and 32-inch on/off-road tires on 18- or available 20-inch wheels provide additional grip. Hill-descent Control, an off-road-biased rear suspension geometry (Rebel and 4x4 Off-road Package) and unique off-road-calibrated shocks bolster trail capability. The package also includes robust skid plate protection (transfer case, steering, engine and gas tank) and tow hooks. Rear-fender decals denote trucks equipped with the 4x4 Off-road Package.
Also new for 2019, the Ram 1500 Rebel is even more capable, now available in Quad Cab configurations and featuring new 18-inch wheels with 33-inch Goodyear Wrangler DuraTrac tires driven by an electronic-locking rear differential. The Rebel predecessor came standard with Ram's Active-level four-corner air suspension and a one-inch suspension lift. While air suspension is still available, the new Rebel comes standard with coil spring suspension and a one-inch factory lift. Newly designed Bilstein shocks feature remote reservoirs to keep the shocks cool and work with unique rear suspension geometry (Rebel and 4x4 Off-road Package) to keep the tires in traction. Rebel also includes Hill-descent Control for more off-road prowess. Hefty tow hooks feature wide bumper openings to ease use and the underbody protection features skid plates on the transfer case, steering system, oil pan and gas tank.